November 17, 2022 2:45 pm back to news
201 Portage Celebrates $25+ million Makeover with the Completion of 'Transform201' 
November 16, 2022 | Winnipeg, MB – There's a fresh new vibe in Downtown Winnipeg thanks to the recent completion of a significant transformation project at 201 Portage.  
The $25+ million makeover, dubbed 'Transform201', was officially celebrated Wednesday at an event hosted by Harvard Developments. The gathering was an opportunity to highlight the tower's many exciting changes; formally welcome BMO and its new flagship branch; and announce the arrival of 529 Uptown, a new contemporary restaurant and bar coming to the lobby in Spring 2023. The project, which started in December 2019 and was completed in November of this year, relied on the collaboration and commitment of several local building partners. These include Stantec, Bird Construction, Wescan Mechanical, McCain Electric, Border Glass, Fabris & Watts, Elmhurst Drywall, Cobalt Industries, Alpha Masonry, Bison Fire Protection, Flynn Canada, Static Electric, Downtown Plumbing and Heating, R+R Steel, Urban Jungle, and Greenlight Glass.
The most extensive aspect of the project is the revitalized lobby entrance. New marble flooring, imported from Italy, was supplied by Ciot and installed by Fabris & Watts. Known for their superior durability and purity, these, accompanied by new wall panels, add a modern feel throughout the space. Aluminum composite panels have also been wrapped around the lobby's structural pillars, which rise to the 2nd floor, where newly installed atrium glass provides tenants with a stunning view overlooking the reinvigorated space. And above it hangs an impressive 12'x8' chandelier supplied by Century Lighting Art Design out of Montreal. This beautiful piece is highlighted by sprawling ceiling-to-floor windows that allow for an abundance of natural light.  
Additionally, the newly constructed 201 Fitness provides tenants with a state-of-the-art exercise facility. Open 24 hours a day; this 7,000-square-foot gym features a wide variety of free weights, strength machines, cardio equipment, and a cycle room.  
201's adjoining courtyard, which borders the intersection of Portage and Main, has been rejuvenated with a public seating area, artificial turf, and a community stage that will host events and performances throughout the year. The existing skylight was also converted into an artistic glass walkway, preserving natural light in the concourse area and creating more public space. The courtyard, which took a full year to develop, comprises over 390m3 of concrete and features 17 trees, over 100 shrubs, and 300 cubic yards of soil.
"As the owners of 201 Portage, we care deeply about our tenants, their quality of life, and promoting their business," says Rosanne Hill Blaisdell, President and CEO of Harvard Developments. "We feel strongly that being a good landlord is not just about providing office space, but about creating an amazing experience for our tenants and being an important contributor to the downtown."
In addition to the renovations, WOW Hospitality has announced that they are set to bring fine dining, premium coffee, and mouth-watering burgers to the lobby of 201 with the launch of 529 Uptown, 529 Coffee, and 529 Burger.
A sister restaurant of the WOW Hospitality-owned 529 Wellington, the 57-seat 529 Uptown will open its doors in spring 2023 and bring high-end dining with a Japanese flair to 201 Portage. The new chic coffee bar, 529 Coffee, will accompany the restaurant on the adjacent south side of the lobby, along with 529 Burger, which will be located down the hall and offer tenants and guests an enticing menu of high-quality "Uptown" burgers. 
"We're hoping that when people enter the building, they can get their coffee and something for breakfast at 529 Coffee on their way to their office," says WOW Hospitality owner and CEO Doug Stephen. "Then, at lunch, they can join us at 529 Uptown for a more refined lunch or grab an "Uptown" burger on the concourse from 529 Burger. And finally, they can meet with guests and clients for a drink and small plates at the end of the day." 
The 1,100 sq. ft. space will feature an animated floor-to-ceiling lighted bar area and an outdoor patio area and be one of the only restaurants in Winnipeg consistently serving A5 Wagyu beef. 
And finally, 201 Portage is pleased to formally welcome BMO Bank of Montreal to its new home on the tower's main floor, steps away from its previous home of over a century. The 6,000 sq. space, which BMO is the first to occupy, was previously a pedestrian walkway that has since been transformed into a dynamic curved office space.
"BMO's new flagship branch in the innovative space at 201 Portage Avenue represents the exciting future of this historic site," says Kristen Kennedy, Regional Vice President, Winnipeg Market, BMO Bank of Montreal. "Providing our customers with greater access to banking services and the expertise of BMO's retail, business banking and wealth professionals reflects our commitment to a thriving economy, a sustainable future and an inclusive society."
This commitment to 201 Portage will cement BMO's place at the historic intersection of Portage and Main for decades to come.
"When you create new spaces, you need to fill them," says Hill Blaisdell. "We wanted to bring life and vibrancy to the lobby. The main branch of the Bank of Montreal has done that, as will the new restaurant and café on the main floor. In addition, we also commissioned some amazing new artwork which you will see on the walls within the elevator lobbies."
### 
ABOUT 201 PORTAGE 
Located at the iconic corner of Portage and Main, 201 Portage spans 33-storeys and boasts over 500,000 sq. ft of Class-A office space. 201 Portage was constructed in 1990 and has since obtained BOMA BEST Gold Certification, was awarded the Earth Award and was honoured as "Office Building of the Year" by the Building Owners and Managers Association (BOMA).  
For more information, visit 201portage.com 
 
ABOUT HARVARD DEVELOPMENTS  
Harvard Developments is a full-service real estate company with a diverse portfolio of over 10 million square feet of major office, retail and residential projects across western Canada. Founded in 1903, Harvard has become a proven leader in all areas of real estate, including development, property management, leasing, and asset management. 
For more information, visit harvard.ca 
Grand Opening
201|FITNESS
Main Lobby (Before and After)
201 Portage Courtyard (Before and After)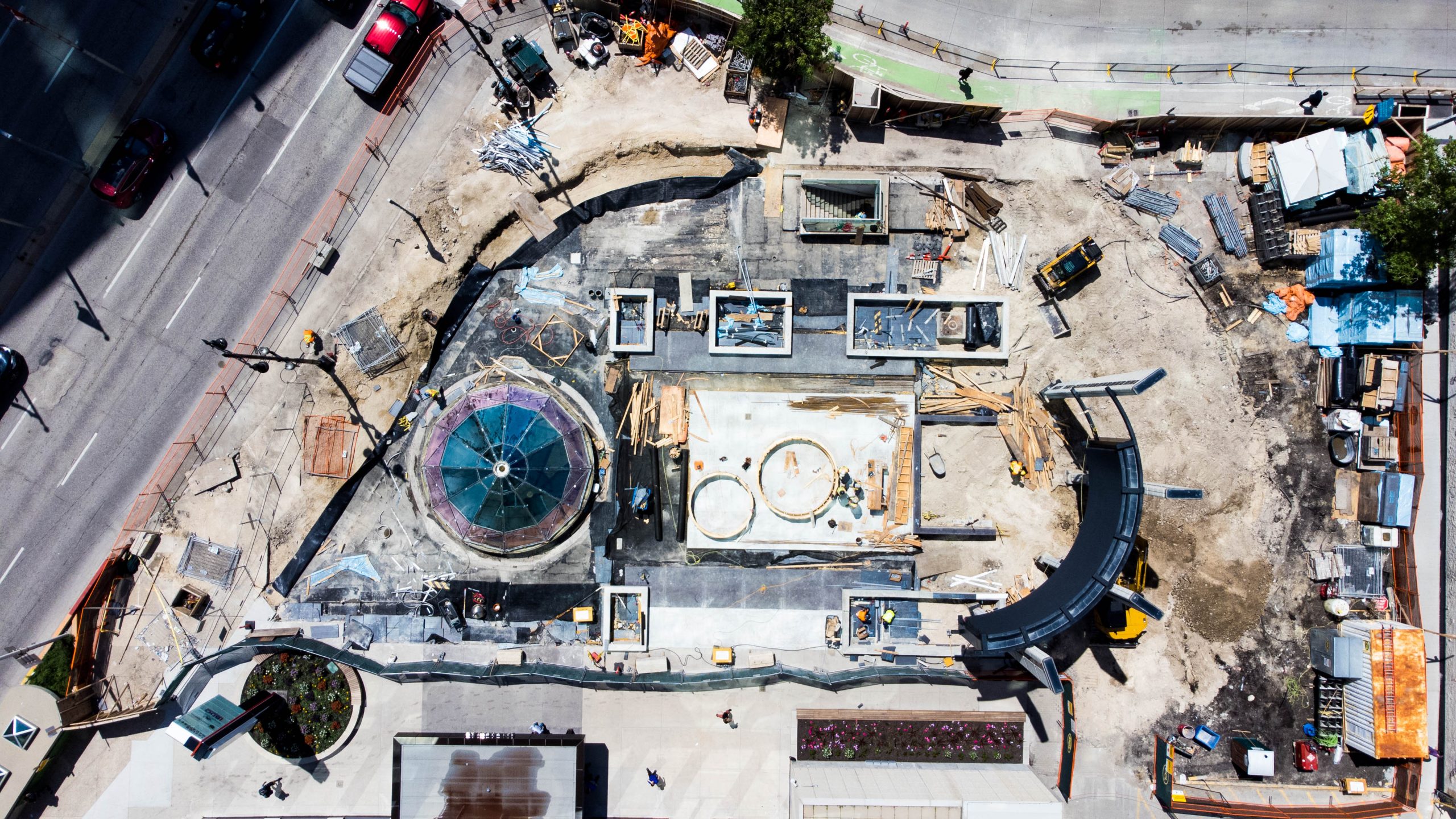 529 Uptown (Renderings)
BMO Bank of Montreal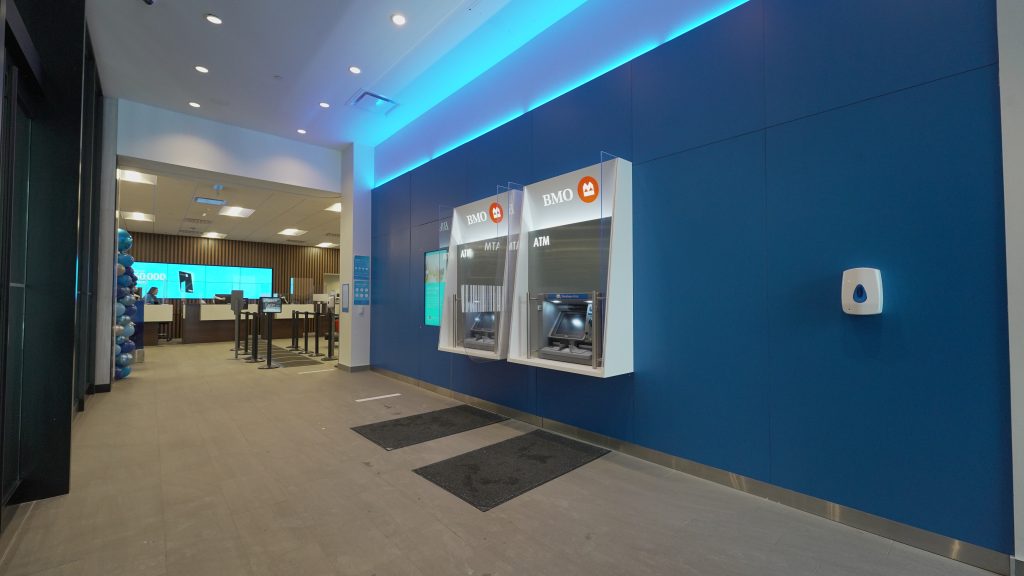 Elevator Upgrades