October 26, 2022 3:04 pm back to news
Taste of 529 Coming to 201
Bringing fine dining, premium coffee, and mouth-watering burgers to the historic intersection of Portage and Main, 529 Uptown is coming to 201 Portage.
A sister restaurant of 529 Wellington, 529 Uptown will open its doors in spring 2023 and will be a high-end 57-seat restaurant on the north side of the 201 lobby. Accompanied by it will be a new high-end coffee bar on the south side, a burger stand called 529 Burger, and two kitchens on the concourse level.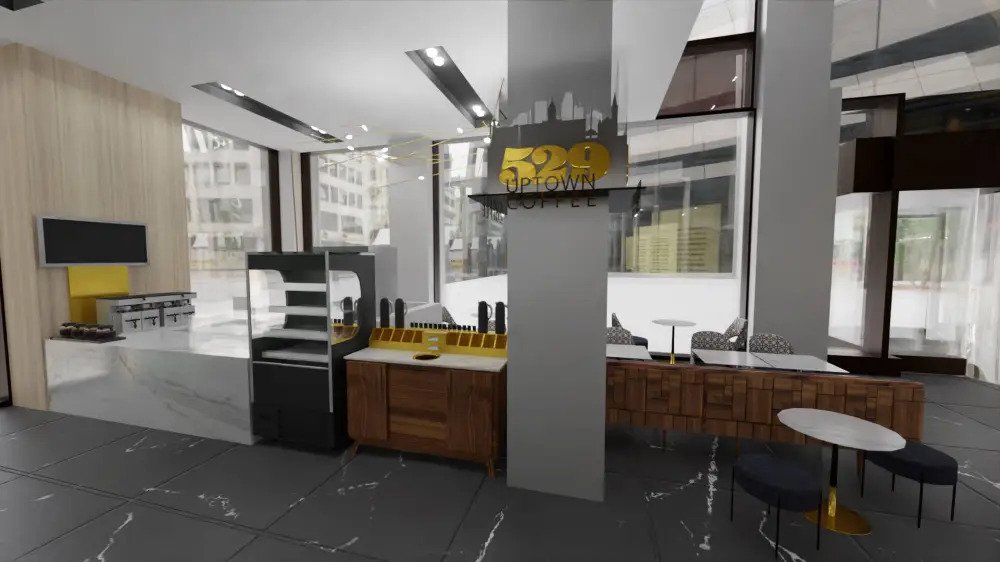 The 1,100 sq. ft. space will feature an animated floor-to-ceiling lighted bar area, an outdoor patio area, and a heated food cart in a single-story elevator for 20-second food delivery. The menu will feature fan favourites from 529 Wellington and have a Japanese influence, being the only restaurant in Winnipeg with Wagyu beef on the menu.
"We are not just providers of space for your desk," says Rosanne Hill Blaisdell, President and CEO of Harvard Developments, "It's a full-day experience. Everyone needs to eat and socialize. Everyone wants a cool factor. Everyone wants a place to entertain and dine their customers. And to have an amenity like 529 on your doorstep, what an amazing and exciting energy boost."
CEO and owner of WOW Hospitality, which owns 529, Doug Stephen.
"We're hoping that when people enter the building, they can get their coffee and breakfast, then head to their office. Then, at lunch, they can come for a burger and meet with customers for a drink at the end of the day."
Open weekdays for breakfast, lunch, and into the afternoon, 529 Uptown is the latest enhancement to reach 201 Portage, with significant renovations on the lobby and plaza wrapping up in late 2022.
Access to 529 Uptown will be available to the public via the city's walkway system, allowing hungry customers access from all four corners of Portage and Main.
More information, including an official opening date, will be coming soon, so follow @201Portage on Instagram or 201 Portage on LinkedIn for the latest.