September 29, 2022 1:42 pm back to news
The Final Push for the 201 Plaza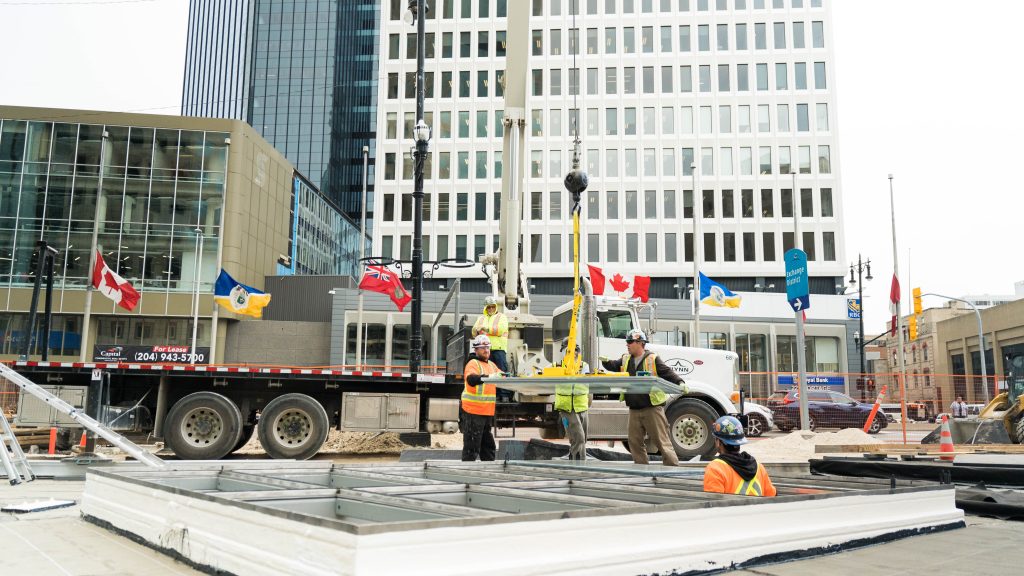 There are a lot of exciting things happening as part of the 201 Portage Plaza Project!
Our construction crews have installed the state-of-the-art glass panel bridge, and we are thrilled to see the finished product! Each of the ten 550lb panels took a whole day to put in place, and we are so close to "seeing the light" as work continues in the food court below. This work will transform the interior, allowing abundant natural light to blanket the space.
Our trades partners poured approximately 5,000 square feet of concrete last week, and while it's tough to tell as it settles, there are three distinct shades of the colour "Interstellar Smoke". As the concrete cures, these colours will begin to pop and add visual interest to the area.
Work on the drive aisle is continuing as it is reshaped and awaits the curb pour next week.
The newly installed stage looks fantastic as it flows out of the plaza concrete and transitions to the central platform. Seeing this installation and change go smoothly was a monumental step for us, and we know this will be the perfect venue for future entertainment on the 201 Plaza.
Please note the City of Winnipeg sidewalk is scheduled to open for pedestrian traffic as of Monday, October 3rd, so don't hesitate to take in the progress on your way by.
The end of this project is finally in sight, and we are excited to share the beautiful space with you very soon!