There's no doubt about it, 2020 has been a year like no other. And while many of us will be thankful to see it come to a close and embark on a fresh canvas in 2021, this year has been a game-changer for so many of us at 201 Portage.
It can be hard to feel optimistic when there are still so many challenges ahead. But in a year of unprecedented change, we also feel hopeful, having seen time and time again the power of people & positivity to help each other through this crisis, sometimes against all odds. As 2020 comes to a close, we share this look at some of the year's milestones and what we're looking forward to in 2021.
The Year of Change
Like a well-crafted gingerbread house, 2020 will go down as a treat when it comes to tenant renovations and tower upgrades. While many of you were busy setting up your own home office, our construction crews from Stuart Olson continued to revolutionize our tower with Transform201 – one of the boldest and largest renovation projects in our building's 30 year history. The Spring and Summer months were spent on base-building work and reshaping the main floor arcade space for the arrival of BMO Bank of Montreal in the Fall. Other upgrades made along the way include:
• New exterior curtain wall along the bow of the tower
• New Security office
• Early demo work to main floor lobby and ceiling


With these key projects in place, our transformation squad will shift their focus to completing the main floor lobby transformation in the coming months, as well as preliminary planning on reimagining the Courtyard space in 2021.
2nd Floor Demo Work

Exterior Construction

Lobby Ceiliing Demo

Elevator Bank Demo

Finishing Touches on the new BMO Space

Lobby and Temporary Entrance

New Security Office

New Lobby Duct Work

Construction of 2nd Floor Space

The New exterior of 201 Portage
Our friends at Wellington Altus Private Wealth also got into the renovation spirit in 2020 and put a bow on some beautiful redesigns of their office space.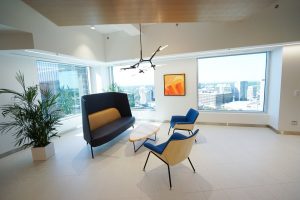 Coming Together. By Staying Apart.
Undoubtedly, the biggest curveball of 2020 has been our response to the COVID-19 pandemic and the impact it's had on the office environment. Over the course of 2020, we've implemented countless new safety and sanitation measures all aimed at keeping you and our visitors to 201 Portage safe. Masks, floor markers, sanitizer stations and elevator protocols are the new normal at 201 Portage and we couldn't be more grateful for the cooperation and unity shown by our community of businesses as we continue to navigate the waves of change.
New Additions
The Grinch's heart isn't the only thing growing by a few sizes these days. At 201 Portage, we've found the strength of ten towers (plus two) thanks to our friends at BMO Bank of Montreal, Corus Entertainment, and BDO who were the newest members to join our 201 'fam' in 2020. BMO Bank of Montreal and their employees delivered a bank "statement" of their own when they officially opened their flagship branch on the main floor of 201 on October 5th. The opening was the start of a new era for bank and building alike as they settled in to their modern 6,000 sq.ft. financial oasis overlooking Portage and Main.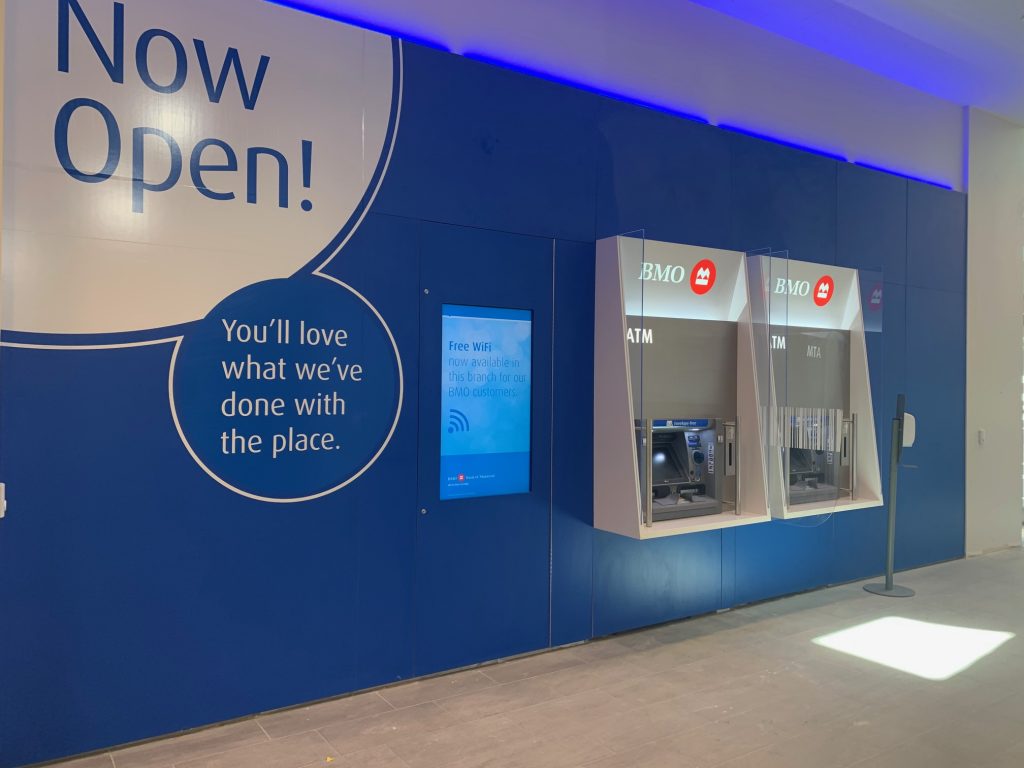 From the from main-floor to the top-floor, 201 Portage was also thrilled to welcome the trusted voice of 680 CJOB to the heart of Downtown Winnipeg in the Fall of 2020. The move brought together the entire radio, TV and online brands of Corus Entertainment under one roof and to create a state-of-the art studio on the 30th floor of 201 Portage. Check out their Spotlight Feature in this edition of the Trendsletter for the full scoop.
A quick trip down the elevator to the 26th floor and you will find the new Winnipeg home of BDO, one of the country's leading assurance, accounting and advisory firms. True to their roots and culture, BDO's new space features a bright, collaborative vibe and accents that pay homage to the prairies and Manitoba spirit. 
As we turn off the lights on an eventful year, all of us at 201 Portage and Harvard Property Management want to take this opportunity to thank you for joining us on this crazy ride and being part of our 201 community. Together, we've met all of the bumps, flips and swerves that 2020 could throw at us and we are incredibly thankful for your support and teamwork along the way. We have nothing but high hopes and big plans for 2021 and can't wait to share another year of memories with you.
From our bubble to yours, we wish you a happy holiday season and look forward to seeing you in 2021!